All over the whole we now read of people dying soon after getting one of the COVID experimental injections. These drugs are not really vaccines in the traditional sense of a vaccine, which is meant to stop transmission and infection. But they are toxic class 4 poisons that have a very high adverse reaction rate. They are killing and maiming many! It is still too early to see the longer term effects, after 6 months to a few years, when many experts predict major deaths will occur.
The adverse reactions are not really side effects either because it was well known from animal studies a decade ago that they will cause these attacking all different tissues in the human bodies.
These drugs are really bioweapons against mankind and the scriptures support this idea. They warn us that Satan will unleash sorceries (pharmakia) on the earth to kill off large fractions of the global population.
And the light of a candle shall shine no more at all in thee; and the voice of the bridegroom and of the bride shall be heard no more at all in thee: for thy merchants were the great men of the earth; for by thy sorceries (pharmakeia) were all nations deceived. 24 And in her was found the blood of prophets, and of saints, and of all that were slain upon the earth.

Revelation 18:23-24
Greek: φαρμακεία
pharmakeia
far-mak-i'-ah
From G5332; medication ("pharmacy"), that is, (by extension) magic (literal or figurative): – sorcery, witchcraft.
Total KJV occurrences: 3
Jesus asks you: "Where is your faith?" (Mark 8:25) If your faith is in Him, truly, why do you trust earthly physicians, mere men, supposed "experts", paid salesmen, and drugs which numb your mind and harden your heart, preventing you from truly knowing and walking with the LORD? Who sold you on the notion of trusting these mere men instead of the LORD Almighty? Who set them up as kings to reign over your life?
THOSE FOOLISH ENOUGH TO AGREE TO AND ACCEPT THE WORLD'S DIAGNOSIS ARE THEN DRUGGED.
Without faith in God, you will never be blessed or rewarded by God!
But without faith it is impossible to please him: for he that cometh to God must believe that he is, and that he is a rewarder of them that diligently seek him.

Hebrews 11:6
DRUGS CLEARLY INDICATE AN EPIDEMIC OF UNBELIEF – A REJECTION OF THE LORD.
Are you blessed or cursed?
Thus says the LORD; Cursed be the man that trusts in man, and makes flesh his arm, and whose heart departs from the LORD.

Jeremiah 17:5
King Asa trusted the physicians and not the LORD and he paid dearly.
And Asa in the thirty and ninth year of his reign was diseased in his feet, until his disease was exceeding great: yet in his disease he sought not to the LORD, but to the physicians.

2 Chronicles 16:12
Like Asa, many today trust the counsel of mere men, such as doctors and not God. This doesn't mean going to a doctor is a sin and yet, the true disciple will primarily trust and obey and be led of the LORD, not men.
PHARMAKEIA Deception
Revelation chapter 18 gives a description of the fall of Babylon and in verse 23 it gives us the reason why all nations were deceived. This may be shocking for many people. Let's read what the Bible says.
Referring to the fall of Babylon Revelation 18:23 says
And the light of a candle shall shine no more at all in you; and the voice of the bridegroom and of the bride shall be heard no more at all in you: for your merchants were the great men of the earth; for by your sorceries were all nations deceived.

Revelation 18:23
By the "sorceries" of Babylon all nations were deceived. The Greek word for "sorceries" in verse 23 is "pharmakeia" [far-mak-i'-ah].
According to the Thayer Greek Dictionary "pharmakeia" is "the use or administering of drugs; poisoning; and sorcery, magical arts, often found in connection with idolatry and fostered by it." If you put the original Greek word "pharmakeia" in place of the English word "sorceries" the end of verse 23 would say, "For by thy pharmakeia were ALL nations deceived"!
"Pharmakeia" is where we get our English word "pharmacy"! Pharmacy is a well organized and professionalized system that administers poisonous drugs. The Bible reveals that Babylon will deceive all nations by the use of pharmacy that is in connection to "magical arts" and idolatry.
"Magical arts" has its deep roots in witchcraft and the occultic world. We don't have to do a deep Bible study to know that Satan is directly behind the magical arts and God's people should have nothing to do with it.
Professed deceived Christians today use "magical arts" under the disguise of contemplative prayer, "christian" humanism, and spiritual formation. In general those involved in sorcery, witchcraft, and magic are known to use "magic" potions to "heal", deceive, poison, control, or kill someone.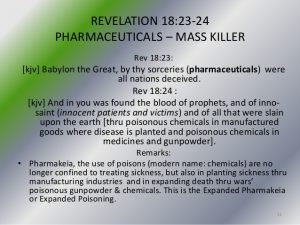 Pharmacy mainly uses a mixture of toxic chemicals, metals, and/or synthetic elements to produce "pharmaceuticals" that are designed to manipulate the biochemistry or metabolic functions of the body in an attempt to get a "desired" affect in the treatment of a disease or sickness.
In other words, pharmacy mixes up different types of poison, package it, patent it, and claims that it can treat certain types of diseases. The main problem with that system is that poison is poison. Pharmaceutical drugs are poisonous.
When poison is put into the body it has negative effects on the entire body system from head to toe. These are not just "side effects" or "unintended" sicknesses or diseases that a person suffers as a result of using a drug.
These are "direct effects" because the reality is that drugs have direct effects on the entire body system including the brain. When you go back to Revelation 18:23, Jesus uses the Greek word "pharmakeia" to reveal to us the main thing that will be used to deceive ALL people in the last days is a well organized system of administering poisonous drugs to billions of people that are not only toxic to the organs of body, but have direct negative effects on the brain. Many of these drugs used for a variety of reasons are known to cause problems with memory, mood, and contribute to negative personality changes.
Do you think Jesus is a part of this system? NO! Should true Christians be a part of this drugging system? No.
This systematic poisoning is of Babylon and God's people need to get out.
ALL YOU HAVE TO DO IS PUT IT ON TV AND GULLIBLE DUPES BELIEVE IT WITHOUT QUESTION
We need to learn nature's way of healing that God approves of through lifestyle and natural clean foods and herbs.
The following passage below is specifically speaking of Lucifer, Satan. Think in terms of how effectively, Satan, "the prince of the power of the air" (Ephesians 2:2) uses his human agents to mislead the masses:
They that see you shall narrowly look on you, and consider you, saying, Is this the man that made the earth to tremble, that did shake kingdoms; 17 That made the world as a wilderness, and destroyed the cities thereof; that opened not the house of his prisoners?

Isaiah 14:16-17
The Global Depopulation Agenda
Watch the following: "Fall of the Human Race" on Bitchute.com
And this one: "The Selling of Baby Parts" on Bitchute.com
See The New Barbarism: embryonic stem cells lines
Join me on Telegram.org: @GideonHartnett https://t.me/gideonhartnett  (join my group)